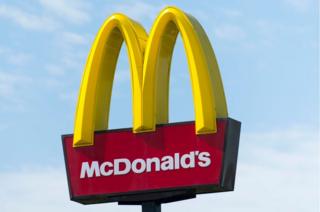 Each individual McDonald's in Peru has been shut for two times of mourning, just after two young staff members were electrocuted at a branch in the funds, Lima.
Alexandra Porras Inga, 19, and Gabriel Campos Zapata, 18, reportedly died on a night time change even though cleaning the kitchen area.
The New York Moments experiences they had been killed by a loose cable on Sunday.
Police claimed Ms Porras Inga endured an electric powered shock from a drinks equipment, and Mr Campos Zapata was electrocuted when he tried to assist her.
Unexpected emergency expert services discovered both equally teens dead at the McDonald's department in the Pueblo Libre spot of Lima. Peru's public prosecutor's office environment has opened an investigation.
In a assertion on Monday, McDonald's functioning company in Peru, Arcos Dorados, claimed it shared "the sorrow and severe soreness of the affected family members", and would co-run with authorities to establish what happened.
Protesters gathered in Lima the following day to desire enhancements to workplace security. On social media, several youthful men and women shared tales of their perilous performing circumstances, casting light on a nationwide difficulty.
McDonald's could be fined 189,000 soles (£43,000 $56,288) if Peru's workplace basic safety company, Sunafil, finds the branch was liable for the deaths.
The Guardian quoted Silvia Cáceres, Peru's labour minister, as stating: "If the legal rights of these youthful individuals have been violated, we will carry on with the sanctions – whilst the funds is not vital since a daily life has no value."