Four-star DB Francois had to navigate 'rumors and truths and falsehoods,' but picks Huskers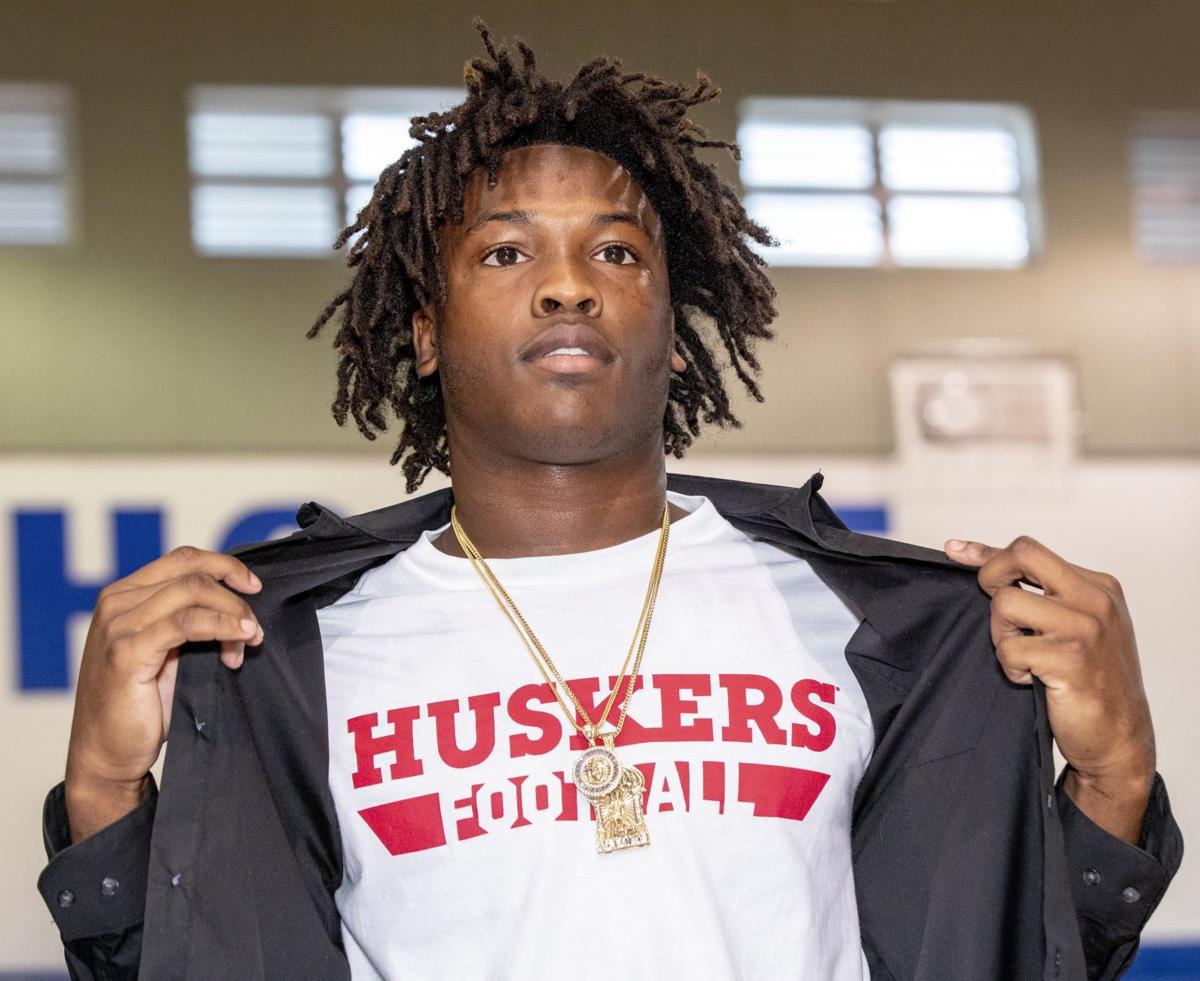 Jaiden Francois had an exciting morning and a difficult one all at the same time.
The four-star defensive back was set to make his college decision at South Dade High and, it's safe to say now, he was all set to pick Nebraska over home-state Miami.
He had a Huskers T-shirt tucked under a dress shirt. He had a Nebraska sweatshirt under the ceremony table and his family all donned red beneath coats and shirts.
Then, a live video stream posted by CaneSport.com captured him visibly shaken and emotional. He got up from the table, talking on the phone and with people around him. He left the gym. He came back and sat down at the table again. Then he got up again.
The root of the indecision, sources tell the Journal Star: An unfounded rumor that reached Francois about the possibility that NU secondary coach Travis Fisher, Francois' lead recruiter, was set to leave Lincoln and take another job.
"I don't want to say too much about details, but this process is tough on a lot of recruits, it's tough on a lot of 18-year-olds," Nebraska head coach Scott Frost said later in the afternoon. "I think sometimes they have to sort out rumors and truths and falsehoods and in some situations that can go right up to signing day and when they put their name on the paper."
It did with Francois, certainly, until he came back into the gym, laughed with a teammate sitting next to him and then confidently told a packed gymnasium that he's attending the University of Nebraska.
Signed, sealed and delivered. In fact, Nebraska tweeted out the official confirmation within seconds, meaning Francois' National Letter of Intent had been sent to Lincoln some amount of time before.
×

We can't do it without you. Support local journalism with our BEST DEAL EVER!
Thanks for being a subscriber.
Sorry, your subscription does not include this content.
Please call 877-760-6006 to upgrade your subscription.

Keep reading for FREE!
Enjoy more articles by signing up or logging in. No credit card required.
Among the people Francois talked to on the phone during the nearly 45 minutes between when the signing ceremony was set to begin and when he actually donned the Husker gear: Frost himself.
"I actually talked to Jaiden when he was offstage, and then texted him a bunch after he came back out, and he's fired up," said Frost of Francois, who as an early enrollee will be on campus at NU in the next month and will take part in spring ball. "I expect him to come in hungry and hopefully contribute right away."
Within minutes of the 6-foot, 190-pound cornerback making his decision, the typically quiet Fisher took to Twitter to make his opinion on the matter known.
"There's no place like Nebraska! Getting better today and I can't wait to coach these great young men for the next four to five years! Sky's the limit," he tweeted.
Frost reiterated the sentiment that Fisher isn't going anywhere.
"The thing we always have going for us and always will, we tell the truth in recruiting, and we're honest and genuine in recruiting," Frost said. "So if there's a situation where there's a rumor about something like there was a rumor about today, we're going to tell the truth and we did tell the truth, and usually that wins out."
Francois had twice previously been verbally committed to Miami, first from July to December 2018 and then again from February to October this year. He officially visited Lincoln in mid-November and has been a top-of-the-board target since then.
The 247Sports Composite lists him as the No. 283 overall player in the country, while Rivals considers him the No. 57 player in Florida for the cycle.
For Frost, Francois, Fisher and the Huskers, it's all's well that ends well.
"You're nervous for all these guys until it's done," Frost said. "You kind of feel like a shepherd. You're trying to keep the flock together and keep anybody from coming in and stealing one."
Contact the writer at pgabriel@journalstar.com or 402-473-7439. On Twitter @HuskerExtraPG.
We'll send breaking news and news alerts to you as as they happen!